Impossible I-1 Instant Camera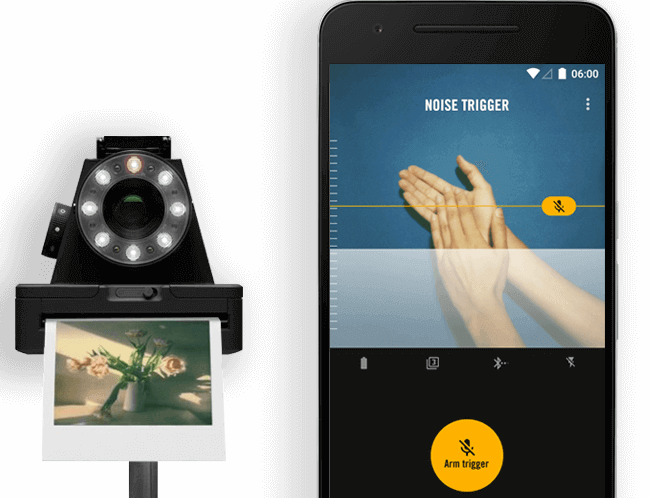 What was Karlmax's role in the project?
After the completion of the development of firmware and hardware, we took over the development of the Android app – at time in parallel to the above.
Why does the user need the app?
So you can make full use of the new I-1 instant camera.
What can the app do?
The I-1 camera is paired with your smartphone via Bluetooth. You're then able to operate the camera using the app and experiment with various settings, for example "Lightpainting" or "Double Exposure" —that transform your everyday pictures into pieces of art. A high-performance manual mode means that the users can choose their own individual versions of the camera settings.
The challenge
The iOS app had already been developed and designed; Karlmax Berlin's brief was to bring the Android version of the app to market. Our challenge here was to adapt the existing design with its many individual interface elements.
A further challenge was controlling the camera through Bluetooth LE, with related user controls for operating the camera via smartphone. This immediately led to practical questions: how does the app behave when the connection is lost? How do multiple cameras behave with the app, or one camera to multiple apps?
How did we proceed?
The history of Bluetooth and Android is a history full of misunderstandings. First introduced with Version 4.3 for the Low Energy Standard, it wasn't as well-tested as other parts of the operating system. In its non-connected state, the app offers a demo mode in which the app can be tested. A camera, once paired, is saved and from then on automatically sought out by the app. But a camera can only be paired with a single phone. This led to strong competition between the devices in our test device pool, as the device that sent the strongest signal would be the one that was accepted as the connected device, regardless whether it was sitting on a neighbouring table or out in the corridor.
Our most important goal—leaving aside making it functional in a household with 35 smartphones—was reached: one app with two cameras, plus the other way around, behaving predictably. In this way we can make sure that a photographer can get their equipment ready quickly and start shooting.
Behind the scenes – or: How I Made the Man with the Two Faces
The I-1 gives you a range of options to get creative with your photos. Naturally, all the app's functions needed to be thoroughly tested—and for that, my favourite subject matter was, of course, my dear colleagues. With the double lighting option you can for example combine two photos into one. May I therefore present: Kalph (Karl + Ralph), our new colleague with the two faces. One picture with twice the good looks. Welcome to the Karlmax Berlin team, Kalph!