What was Karlmax's role in the project?
We worked together with the client on the concept and on various versions of the app and then implemented these for Android and iOS.
Why does the user need the app?
To make productive learning without a pile of index cards possible.
What can the app do?
Uniseminar is an app for students to make their subjects available in a mobile setting. The advantages of physical index cards were combined with the mobility of smartphones and tablets. The user could make notes and mark down all their favourite questions. The contents were tailored to the respective courses of specific universities and technical colleges.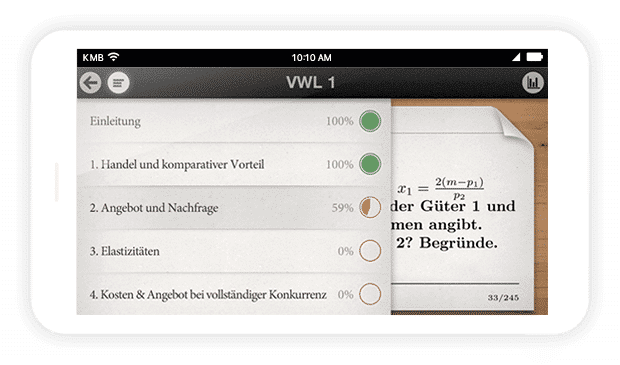 The challenge
We've accompanied the Uniseminar project over a number of years. One of the most exciting changes was when we needed to align it to iOS 7. This task was like taking a rough wooden table and making it fit into a modern design kitchen. iOS 7 threw down the gauntlet in terms of fitting our app to their new, sleek, modern design. At the same time it had to have the same functionality: Our users had to be able to find their way around it just like before.
How did we proceed?
There was a great sense of responsibility for the designers and developers of the frontend. In order to achieve the goal of a typically minimalistic design, the question that kept raising its head was what we could leave out without reducing recognisability and usability. The students who had been using the older version of the app should be able to find their way around the new version as easily and naturally as they did in the old.
We replaced the pile of index cards with abstract grid views, which immediately worked extremely well. And the new, clearer fonts helped the card elements to stand out just as hoped. The app became more attractive yet less attention-seeking in design, which meant that what was important—the educational content—came to the foreground. It was a lucky coincidence that iOS and Android had developed certain similarities, which made it possible for essentially the same design to work in both operating systems.
Behind the scenes or: How we REDISCOVERED an (ANCIENT) IOS design principle while writing this text
Mobile Design I
What does the word skeuomorph mean?
– 1 answer –
Mobile Design I
Skeuomorph is a certain style direction in design, which emulates day to day objects and tools in a new context.