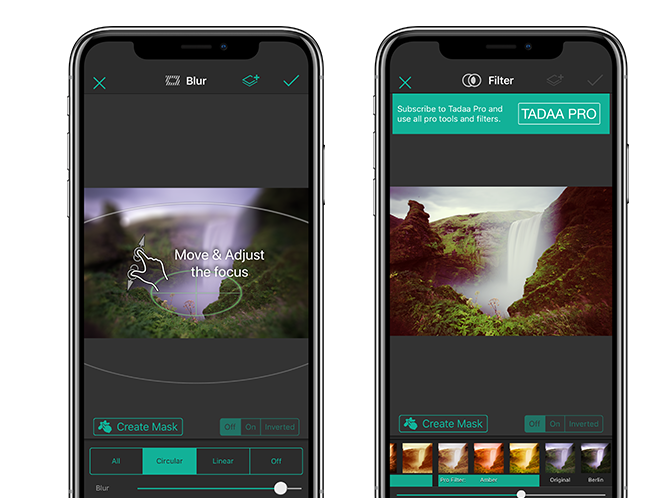 WHAT WAS KARLMAX'S ROLE IN THE PROJECT?
We had previously maintained the iOS version of the app. Now we conceptually reworked it in order to make UI/UX optimizations.
WHY DOES THE USER NEED THE APP?
So they can edit their digital images like professionals.
WHAT CAN THE APP DO?
Tadaa is an app that makes professional image editing mobile and accessible to the non-professional. In addition to the usual filter and effect functions, the user can correct perspective, create points of light or vignettes, apply color effects or apply a red-green shift to make 3D images. It is possible to version the edited image files in order afterwards to be able to select from the different processing steps.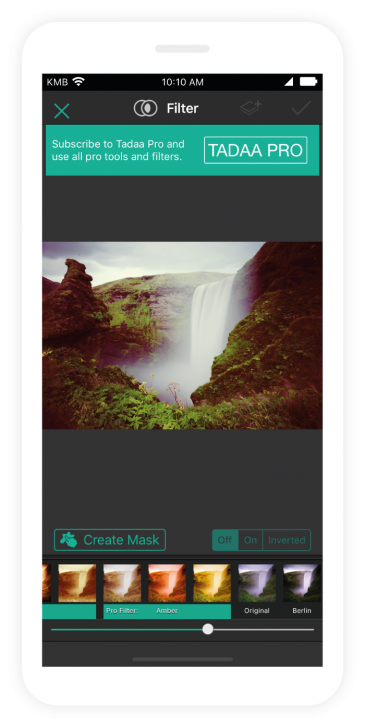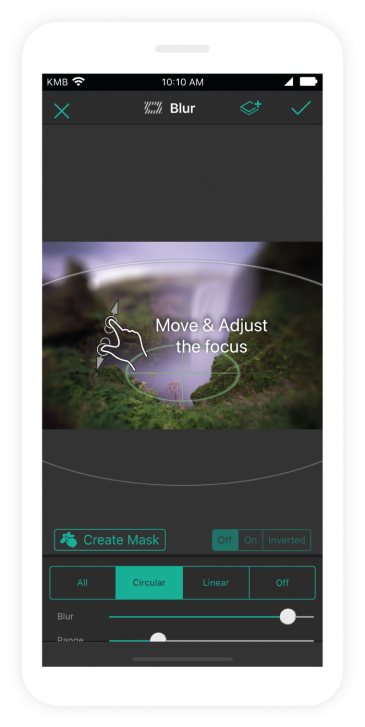 The challenge
Tadaa is a true Senior Citizen, an app that has existed for years. After a brief hibernation, several challenges had arisen, from new XCode versions to the iPhoneX, to adjustments to UI and UX.
This is how the new store handling came into play. Converting the app from In-App Purchases to Subscriptions has been challenging for our developers. It was important to ensure that all users who had already purchased functions in the past still retained them. All new users should not be able to buy single additional functions: rather they would need to unlock them via a subscription system.
HOW DID WE PROCEED?
First, we thoroughly analyzed the existing app and code. The app should not be completely new, but rather developed from the current state. So we tried to create the biggest impact with the least effort. The app has been adapted for the new iPhoneX (with its SafeArea), and so can now introduce its users into the realm of creative image editing. In addition, user experience was an important part of the process.
The app offers functionality including filters with various tools for depth of field and blur (the best in the world), gradual revision with versioning, customizable masks, etc. We have consequently tried scrupulously to move the key features to the right places and to simplify communication, in the hope that more users will be able to benefit from the features.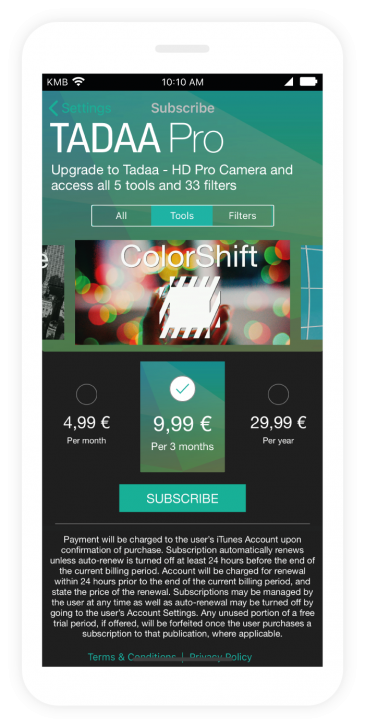 Behind the scenes – or: how my workspace became a shooting star
A chair, a table, a laptop – a regular workspace. And then came tadaa and let every little biscuit crumb on the keyboard appear in a colorful color spectrum. Masked, distorted, framed, adjusted, blurred, sharpened – in every imaginable way my workstation is now documented and staged on our test equipment.